Due to a very costly speeding ticket I decided to skip my regular Rock Werchter for this year and instead went to some of the smaller festivals. I wanted to check out some of the different festivals and get to know some new artists.
Mundial 2011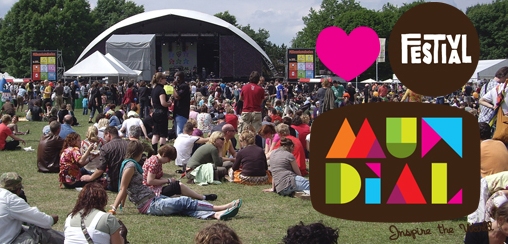 Every year the Mundial festival is hosted in the Leijpark in Tilburg, this year on Sunday the 19th of June was my 3rd visit. The festival was struck by a huge storm on Saturday and the outlook for Sunday wasn't pretty either. So I've spent most of the afternoon at a friends home before actually entering the festival.
We arrived just in time for the Jeugd van Tegenwoordig, where we found another friend who is a real festival junky! The three of us then did a quick tour around the festival, as this is no ordinary festival. It features many forms of art and expresses cultures of many different places around the world. We then checked out some Balkan Disko and Partizani music by Shantel & Bucovino Club Orkestar in a tent. Some parts of the Fun Lovin' Criminals and a dance act from Chavi Bansal called "Infanticide". The night ended with Moby, who caused the whole crowd to go nuts and end the festival in a bang!
Check the line up for sunday here.
Dour 2011

On Friday 15 July, together with friends I visited Dour in southern Belgium. It's a sweet location, because of it being so south it has quite decent weather and it is located directly next to the highway. There are however some minor drawbacks; everyone speaks French, it is quite a long drive (at least 2,5hrs) and it is the dirtiest festival I've ever seen (thus the stories are true).
However the music makes up greatly for those drawbacks; a line up with heavy metal, rock, drum & bass, techno, dubstep and dance. Some of the artists I've seen include: The Japanese Popstars, Sascha Flunke, Papa Roach, Skindred, Riva Starr, Eskmo, Mogwai and Rusko. The festival consisted of many different podium's and way more choices than any festival I've seen so far!
I actually picked friday to be able to see The Qemists and Vitalic and as I suspected those turned out to be the best acts! During Vitalic I ditched my companions and went to the front of the field, which was awesome and totally made up for the lonely (my friends we're sleeping) travel home by night!
The full Friday Line-up can be found here.
Summer Darkness

The next festival was Summer Darkness on Sunday 31 July, which is a dark underground interdisciplinary festival, located in the  city centre of Utrecht. For years I've been asked to go to this festival to experience Cyber/Goth at first hand and finally I was able to! Unfortunately due to work-schedules we could not go on a Saturday, however Sunday also offered some great acts.
We set off by train and arrived slightly later than planned due to a wrong turn at the central train station and me bickering about it all the way to the entrance. This festival is located at different pop-stages throughout the city, which requires some moving time in between acts. We we're able to see a mix of different bands and genres; The Wars (alternative rock), Destroid (industrial/ebm), a little bit of Julien-K (electro-rock/industrial-rock), The Neon Judgement (industrial/new wave),  Faderhead (ebm/futurepop) and Killing Joke (post-punk/industrial rock).
The best act, and the one we all wanted to see, was Faderhead. That act together with my "Broodje Ploff" from the local snack bar proved to be a great way of spending a free Sunday!
The Sunday Line-up can be found here.